BREASTS
Breast lift (Mastopexy)
Breast lift is also called Mastopexy.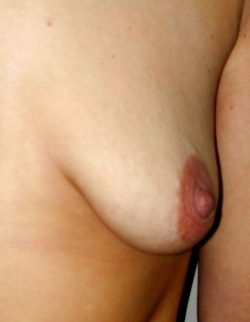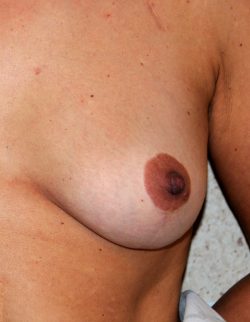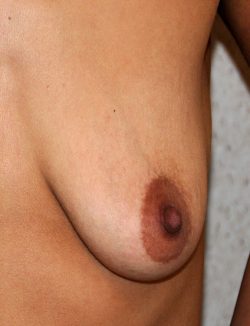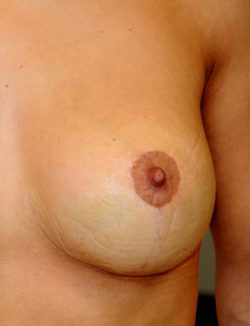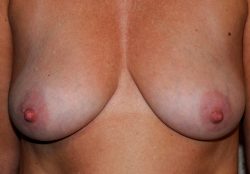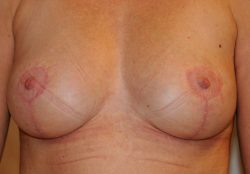 Description
The purpose of the Breast lift is to move the breasts back up (to reposition areolas and nipples, lift the gland and remove excess skin). It helps to correct drooping breasts (ptosis) with sagging glands without changing the breasts' volume. If the patients wishes, it is possible to increases or reduce breasts' volume as well.
I prefer to use a "vertical" technique which leaves very discreet scars (around the areola, and a vertical one going to the fold below the breast). This way, there is no scar below the breast.
in practical terms
Before the surgery:
The patient schedules an appointment with the surgeon to find out about the patient's requests. The surgeon also provides pre-operative assessment and care. The patient then meets the anaesthesist at least 48 hours before the surgery.
It is recommended not to smoke 30 days before the surgery and not to take any medication containing aspirin or anti-inflammatory 10 days before.
During the surgery:
Once the patient is aenesthetised, I perform another long local aenesthesia (6 to 12 hours) in order to increase post surgery comfort.
Depending on the type of drooping breasts, the incision is made:
Around the areola
Around the areola and between the areola and in the fold under the breast
A bandage is then placed on the breasts.
I prefer to use a type of bandage that pressures the scar. This makes the scar much less visible than with any other kind of bandages, making the surgery result much more beautiful!
After the surgery:
Mastopexy is not very painful and is sometimes compared to milk production.
Swelling may also appear and cause a temporary breasts asymmetry. It is recommended to rest and to avoid any brutal movement during the days following the surgery.
Bandages are changed every 2-3 days and a checkup is scheduled around 15 days after the intervention.
The patient can go back to professional activities once the bandage has been changed or later on, depending on the type of activities.
The final result may take up to 1 year to be fully visible.
FAQ
How long after pregnancy can I undergo a mastopexy and can I breast feed after this surgery?
It is recommended to wait 6 months and the end of breast feeding to undergo this surgery. This way, the breasts get back to their initial volume/weight and stability.
Breast feeding may be compromised after this surgery.