BREASTS
Breast reduction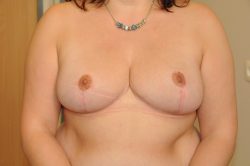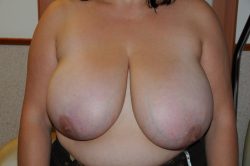 Description
Breast reduction diminishes the size of breasts and corrects imperfections. Its aim is also to improve body harmony.
In the case of a breast hypertrophy (breasts volume is too important in comparison to the rest of the body), the surgery helps reducing pain in the neck, shoulders and back.
There are around a dozen surgical techniques to reduce breasts size.
In practical terms
Before the surgery:
The patient schedules an appointment with the surgeon to find out about the patient's requests. The surgeon also provides pre-operative assessment and care. The patient then meets the anaesthesist at least 48 hours before the surgery.
It is recommended not to smoke 30 days before the surgery and not to take any medication containing aspirin or anti-inflammatory 10 days before.
During the surgery:
The surgeon removes the excessive skin and glandular tissue before remodeling the remaining tissue. He then puts a bandage fitting the shape of the breasts.
Scars are T shaped (in the breast's skin fold and between the fold and the areola).
I often use a "short scar" (periareolar and vertical) technique. When the breasts volume and ptosis are too important, another technique with marine anchor shaped scars is necessary.
I prefer to use a type of bandage that pressures the scar. This makes the scar much less visible than with any other kind of bandages, making the surgery result much more beautiful!
After the surgery:
Bruises and swelling may appear, but are usually not painful.
After 5 to 7 days, the bandage is replaced by a wireless bra (to be worn for 6 months, day and night).
There are no sutures to remove, but the seams' extremities are removed around 14 days after the surgery.
The patient can go back to professional activities between 8 and 15 days after the intervention, depending of the type of activities.
The final result may take up to 1 year to be fully visible.
This surgery has a very positive impact on the patient's weight, sport and other activities.
FAQ
From what age is it recommended to undergo a breast reduction?
There is no legal age to undergo this surgery. It is however necessary to wait for the breasts to be fully developed (after 18 years old). If the psychological discomfort is very high, we consider intervening earlier.
How long after pregnancy can I undergo a breast reduction and can I breast feed after this surgery?
It is recommended to wait 6 months and the end of breast feeding to undergo this surgery. This way, the breasts get back to their initial volume/weight and stability.
Breast feeding may be compromised after this surgery.