BREASTS
Breast reconstruction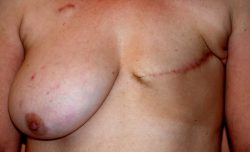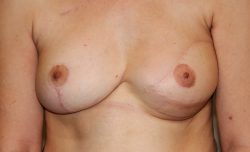 Description
The breast reconstruction surgery rebuilds the breasts after they have been partially or entirely removed (for instance in the case of a tumor removal).
In practical terms
Before the surgery:
The patient schedules an appointment with the surgeon to find out about the patient's requests. The surgeon also provides pre-operative assessment and care. The patient then meets the anaesthesist at least 48 hours before the surgery.
It is recommended not to smoke 30 days before the surgery and not to take any medication containing aspirin or anti-inflammatory 10 days before.
During the surgery:
First, we try to recover the breasts' size with different techniques which will depend on many parameters. Techniques used are for instance expansion, breast implants, or the removal of tissues (skin, fat or muscle) which is then used for breast reconstruction.
Then, the surgeon rebuilds the areola and the nipple.
A surgery on the other breast may be necessary in order to obtain a better symmetry.
I prefer to use a type of bandage that pressures the scar. This makes the scar much less visible than with any other kind of bandages, making the surgery result much more beautiful!
After the surgery:
Bruises and swelling may appear.
Scars and bandages depend on the type of surgery.
The final result may take up to 1 year to be fully visible.
FAQ
Can I couple the breast reconstruction surgery with a breast augmentation or reduction?
Yes, breast reconstruction can be combined with these surgeries.
When can I consider to undergo a breast reconstruction?
If you have had radiotherapy, it is recommended to wait for 1 year. If not, the surgery can be performed earlier.