Michel Heymans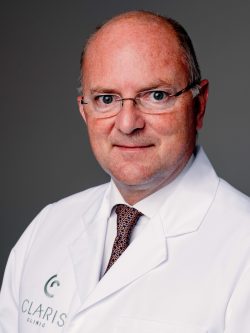 Born on 12/05/1962
Belgian
Academic background:
July, 16 1988: Catholic University of Louvain:  "Medical doctor" with Distinction.
July, 7 1993: Catholic University of Louvain: "Special license of Reconstructive  Microsurgery " with Great Distinction
June, 7 1994: Fellow of the Belgian Collegium Chirurgicum Plasticum
September, 13 1994: Recognition as " Plastic Reconstructive and Aesthetic Surgeon"
Order Number: 1-84816-66-210
Professional experience:
01/09/1994: Plastic surgeon at Clinique Saint Pierre Ottignies Belgium
2001: Creation and Chief of the Service de Chirurgie Plastique Reconstructrice et Esthétique of the Clinique Saint Pierre Ottignies Belgium . Performing +/- 900 operations per year.
Since2001: starting of a Private office activity
2012-2014: Plastic Surgeon at the Botaclinic Liège Belgium
Since October 2014: Plastic Surgeon and partner at the Claris clinic La Hulpe Belgium.
2008-2011: Key opinion leader for Allergan.
Since 2012: Key opinion leader and member of the advisory board for GCAesthetics. Animation of several advanced workshops on Aesthetics breasts augmentation in La Hulpe, Helsinki, Zurich, Milano, Naples, Rome, and others.
Since 2008: Research on skin wound healing and invention of plaster in association with Mac Tac.
Professional interests :
Aesthetics breasts surgery and aesthetics facial surgery.
Languages :
French : Mother tongue
English : Spoken and written
Dutch : Spoken and written
Spanish : Spoken