SILHOUETTE
ARM LIFT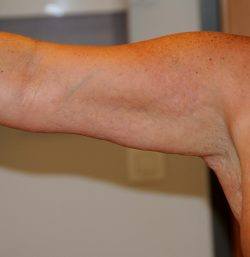 Description
The purpose of the arm lift surgery (or Brachioplasty) is to stretch the skin of the posterior side of the arm.
In practical terms
Before the surgery:
The patient schedules an appointment with the surgeon to find out about the patient's requests. The surgeon also provides pre-operative assessment and care. The patient then meets the anaesthesist at least 48 hours before the surgery.
It is recommended not to smoke 30 days before the surgery and not to take any medication containing aspirin or anti-inflammatory 10 days before.
During the surgery:
The surgeon makes the incision horizontally in the armpit fold. He removes the excess of skin of the posterior side of the arm, and then puts the stitches where the incision was made. He then places a compression bandage.
I prefer to use a type of bandage that pressures the scar. This makes the scar much less visible than with any other kind of bandages, making the surgery result much more beautiful!
After the surgery:
Arm lift is not painful. Bruises and swelling may appear (and disappear after 10 to 20 days) after the surgery.
It is recommended to avoid any violent movements.
The patient can go back to professional activities around 1 to 3 weeks after the intervention, depending of the type of activities.
The final result may take up to 6 months to be fully visible.
FAQ
What are the complications of the arm lift?
Infections are very rare.
Temporary bruises and tingling may appear.